The Problem
There are many problems in the world right now that need solving. And it is hard to pick the right battles when it comes to Climate Change. At Hang 10 Distillery, we're passionate about protecting our oceans. And one way to protect the ocean, and avoid temperature rising, is to reduce greenhouse emissions.
In Australia, a large amount of food is wasted every day (7.3 million tonnes of food is lost or wasted each year). While all the food in the world could solve world hunger, wasted food creates many more issues than we would think. 
When in landfill, wasted food produces harmful greenhouse gases like methane. Methane is more than 25 times more potent than carbon dioxide as a greenhouse gas. Roughly, for every tonne of food waste in landfill, a tonne of CO2-e (carbon dioxide equivalent) greenhouse gas is generated.
For example, up to 25% of vegetable production never leaves the farm, and around 37,000 tonnes of bananas are discarded from farms every year, sometimes due to an undesirable shape or colour. But there's some hope that reducing food waste is the 3rd most effective way to address climate change. 
Our process
1. The bread rescue

First, we save unsold bread (that's still fresh!) from a couple of local Bakeries on Sydney Northern Beaches at the end of the day. Sadly, heaps of bread goes to waste every day and is added to landfills.

2. The brewing process

We brew the bread with barley grains, then ferment them together to create our magical "beer". It's incredible how the bread breaks down and turns into this magic liquid gold.

3. Ready to distil

Finally, we use this "Beer" to then distil our spirits. We are one of the first in Australia to make alcohol this way, making our distillery process sustainable and unique.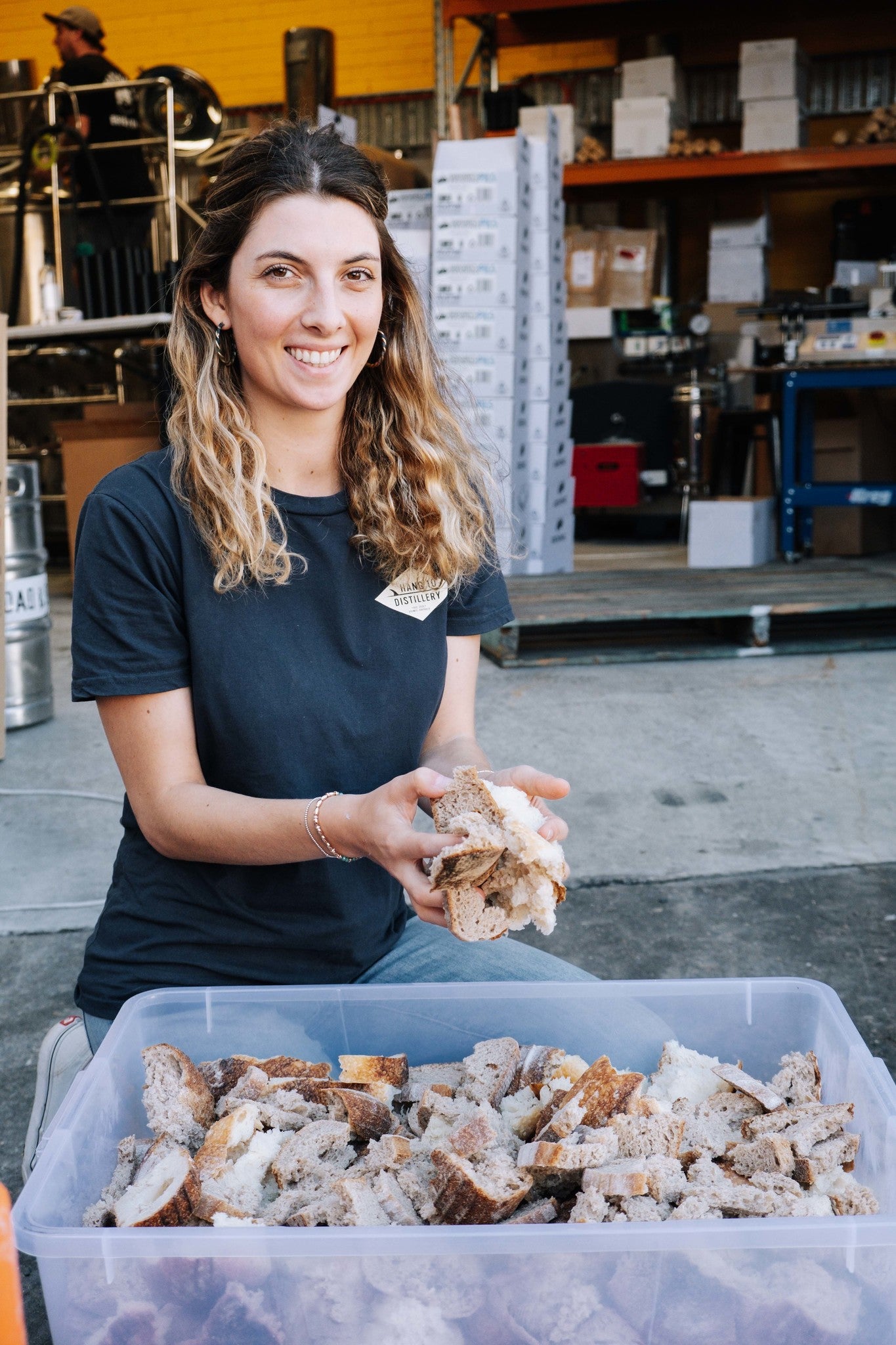 Our solution
This idea to use a food waste product to distil spirits was sparked by watching two documentaries: one about the amount of wasted food in Australia's produce market (War on Waste by ABC) and the other about alcohol produced in Uganda from bananas.
We were seeing a solution to a problem that would help climate change and the oceans. We found a sustainable way to run a distillery.
After trial and error, we found a product that we could use to make spirits, which was abundant in our local area: Bread. Bread has a short shelf life, and as such, much of this is wasted each day. 
We are currently working with a few local bakeries on the Northern Beaches by taking their bread waste when they have oversupply.
It's a win-win situation; we get to create a delicious, unique drink, less food waste goes to landfill, and it's supporting local businesses directly by reducing waste collection costs.
We will continue to innovate and fine-tune our processes, finding ways to protect the environment further as we grow.
We are already using solar power to reduce our carbon footprint for our distilling process, and our packages are always plastic-free. We are continuously looking for ways also to be more sustainable. 
Join our adventure, find your sustainable spirit and drink responsibility.
Our goals
Protect our oceans

Our goal is to make a meaningful difference and a company to be proud of.

By reducing food waste we are able reduce the affect this waste would have had on the environment.

Keep it local

We support local small businesse owners. We are currently working with local growers and bakeries in using their surplus foods for making a new products.

Be sustainable

As surfers and nature lovers, we want to care for the environment we love and enjoy.

We strive to be plastic-free, our energy supplier is guaranteed energy from 100% renewable sources and we aim to give back to nature.

Delicious drinks

By using the best organic ingredients, we strive to make unique, high quality sustainable spirits for everyone (over 18) to enjoy.